Machine learning and AI
Machine learning is a branch of artificial intelligence (AI) that generates and deploys computer algorithms with the ability to learn from data and improve based on experience.
Machine learning for genomics
Our bioinformatics team have begun to incorporate these methods into the work they have undertaken and have now completed a number of projects with a machine learning component:
Application of machine learning techniques to identify and model biomarkers in prostate cancer (with Jason Webber)
Application of machine learning to predict drug response based on genomic mutations in acute myeloid leukaemia patients (with Joanne Zabkiewicz)
Application of machine learning to predict patient survival in prostate cancer (with Jason Webber)
Machine learning approach for the binary classification of biomedical literature (with Matt Mort, Human Gene Mutation Database, HGMD)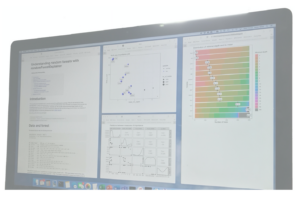 Computing resources
When projects become sufficiently large that High Performance Computing solutions are required we have access to two dedicated platforms for machine learning and AI through our close working relationship with ARCCA and Supercomputing Wales.
Hawk provides a GPU partition comprising of Nvidia P100 GPU nodes for increased throughput supported by applications such as MatLab, PyTorch and TensorFlow. Based on the 'Atos Data Lake' and underpinned by OpenStack, the HPDA and AI platform 'Sparrow' is an integrated solution to store, manage and analyse complex data applicable to a range of disciplines.
To talk about how machine learning could be applied to your research problem, please contact our Operations Manager Caroline Ready (ReadyC@cardiff.ac.uk).