Audio Drama 'Tremolo' Wins BBC Award!
Wales Gene Park is delighted to announce that 'Tremolo' actor Gareth Elis (pictured below) won the Marc Beeby Award for Best Debut Performance at the recent BBC Audio Drama Awards 2023!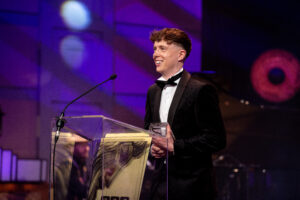 'Tremolo' by Lisa Parry, a collaboration between Wales Gene Park, Illumine Theatre and Theatr Genedlaethol Cymru, supported by the Genetics Society, is a thought-provoking, bilingual podcast drama exploring the impacts of a diagnosis of early-onset Familial Alzheimer's Disease, and some of the socio-ethical issues around genetic testing.
Gareth received the award for his portrayal of 18-year-old Harri who's just finished his exams and is ready to follow his dreams when he discovers that his mother has been diagnosed with the condition, which he and his sister each have a 50 per cent chance of inheriting.
The winners of the awards – presented by the BBC together with the Society of Authors and the Writers' Guild of Great Britain – were announced at a ceremony in the Radio Theatre, BBC Broadcasting House on 19th March, 2023. These awards are dedicated to the creativity of actors, writers, directors, producers, musicians, sound designers and all who work in audio drama.
Many congratulations to Gareth and to all this year's winners!
Hear Gareth's award-winning performance in Tremolo via Spotify, Apple Podcasts and AM.
You can also link to it on Spotify below:
More about Tremolo:
If you knew you could have a serious medical condition and could find out, would you? How could this affect your friends and family?
These questions and more are explored through Harri's story, an 18-year-old who's just finished his exams and ready to follow his dreams. His world is turned upside down when his mother is diagnosed with early onset familial Alzheimer's disease, a condition Harri and his sister each have a 50 per cent chance of inheriting.
Should he take a test to find out if he has it too? Tremolo offers listeners a real insight, exploring the impact of Harri's choice on his relationships and dreams.
Tremolo is aimed primarily at students aged 16+, but also available to the wider public. It is available in both English and Welsh to listen and download via platforms including Spotify, Apple Podcasts, AM & on Theatr Genedlaethol's website.
The podcast series will also feature episodes from the drama's creative team discussing the themes of the play, as well as contributions from genetics specialists.
Tremolo is an Illumine Theatre production in partnership with Wales Gene Park and Theatr Genedlaethol Cymru, supported by the Genetics Society.
Starring Gareth Elis. Written by Lisa Parry, directed by Zoë Waterman, harp music composed and played by Eira Lynn Jones, sound design and editing by Rhys Young, assistant director Branwen Davies, additional music by Yws Gwynedd. Tremolo was recorded at Hoot Studios, Cardiff.
Education Pack
The drama is also accompanied by an education pack for schools & colleges aimed at year 12/13 students. The pack contains:
Creative content including a synopsis of the drama, interviews with the Creative Team & Creative activities
Scientific content including an Information Toolkit, Careers Support, Scientific Activities, Points for reflection, Help and support
Teachers/educators can get a copy of the pack by emailing walesgenepark@cardiff.ac.uk